DHAN celebrates 14th Foundation Day Event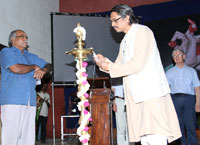 'More than 41% of the Indian population are youth between the age of 14-35 years; two-third of them are in rural areas', thus spoke Shri.M.P.Vasimalai, Executive Director of DHAN Foundation here in Madurai on October 2nd, 2010. He shared about the highlights of the institution and contributions made. He also shared about now DHAN has started working in North Indian States like Bihar, Jharkhand, Orissa, Maharashtra – in spite of initial difficulties; DHAN has planned to work on larger scale in future.

Prof.M.S.Sriram, Indian Institute of Management, Ahmedabad and an authority on Microfinance presided over the event. Dr. Mohan, Head (Retd.), Tamil Literature Department, Madurai Kamaraj University gave special address. Further, respective Programme Leaders shared about important initiatives taken during the last year.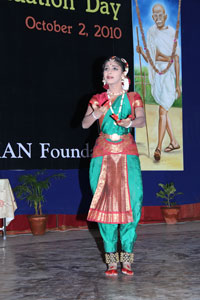 This year, DHAN Foundation launched new thematic programmes on Climate Change Adaptation, Youth and Development and Migration and Development. Ms.B.Raghini shared about DHAN winning the "India NGO Award, 2009" instituted by Resource Alliance. Mr.A.Gurunathan, Programme Leader shared about the new collaboration taken by DHAN with corporate like HUL and Axis Bank Foundation. Ms.V.K.Padmavathy shared about DHAN's collaboration with Maharashtra State Government's MAVIM programme. It is also to be noted that Kalanjiam Development Financial Service promoted by DHAN has crossed Rs.100 crore of business transaction in the last year – Mr.C.Josephraj, CEO, KDFS talked about this. Further, Smt.Thayammal, Leader, Kalanjiam Movement shared about the registration of 100th People Federation thus promoted by DHAN Foundation. Induction Ceremony was done of new staffs of DHAN Foundation. Additionally, winners of 6th Development Film Festival conducted by Centre for Development Communication of DHAN Foundation were to be honoured at the event. Winners received a cash prize of Rs.10000, Rs.7000 and Rs.5000 for I, II and III prize respectively.

Mr.Tom Buijtendrop and Mr.Gerard Frank Solmann of Eureka Re, The Netherlands and Mr.Michael J.Harris of Karunai Illam Trust, New Zealand honoured the event as special guests. Ms.Shanthi Maduresan, Programme Leader welcomed the guests and Ms.A.Umarani, Programme Leader briefed about the Foundation Day; Mr.Singarayar, Programme Leader gave the vote of thanks. Cultural events were performed by students of CBOA-DHAN School, Madurai, DHAN Karunai Illam, Nilakottai and Tata-Dhan Academy, Madurai.
Development Dialogue on "The Anxiety of Growth in Microfinance" by Prof.M.S.Sriram, IIM-A was scheduled at 3:30 pm followed by discussion. .
14th Foundation Day Celebrations in Chittoor Region
14th Foundation Day Celebrations in Dindigul Region
14th Foundation Day Celebrations in Gaya Region
14th Foundation Day Celebrations in Tiruvallur Region
14th Foundation Day Celebrations in Tumkur Region
14th Foundation Day Celebrations in Warangal, Hyderabad (Tank) Region
News & Events

It is rare to find a woman shoulder the responsibility of farming. It is usually the male counterpart who takes up the farm responsibility, but it is not so in the life of Kamatchi.