People Mutuals
People Mutuals was estabilished as a seperate entity on second day of October 2003 and registered as a trust under Indian Trusts Act on December 11, 2003. It was promoted by people federations facilitated and organised by DHAN Foundation. The institution is a mutual insurance initiative promoted through colloboration between DHAN Foundation, Oxfam Novib, Rabobank Foundation and Eureko Re insurance company, The Netherlands, Micro Insurance Association Netherlands(MIAN) provides technical support.
Mission
"Safeguarding poor from risks and vulnerabilities through mutual solutions and colloboration with insurance providers to reduce poverty"
Programme Components
Capacity building/education on mutuality and social security
Product promotion and development
Mainstream colloboration to ensure risk cover to all people
Research, studies and documentation
Policy advocacy
Institution building
Approach
People Mutuals strives to provide access of insurance services to poor through two approaches.
Linking mainstream insurance providers with poor when the products are meeting the needs of poor.
Identifying the gaps in the insurance company products vis-a-vis the needs of people and facilitating community based mutual risk mangaement solutions at federations and ensuring viability and sustainability of them.
People Mutuals Annual Report 2012-2013 (Download, Size: 256 KB)
People Mutuals Annual Report 2011-2012 (Download, Size: 122 KB)
People Mutuals Annual Report 2010-2011 (Download, Size: 700 KB)
People Mutuals Annual Report 2009-2010 (Download, Size: 1943KB)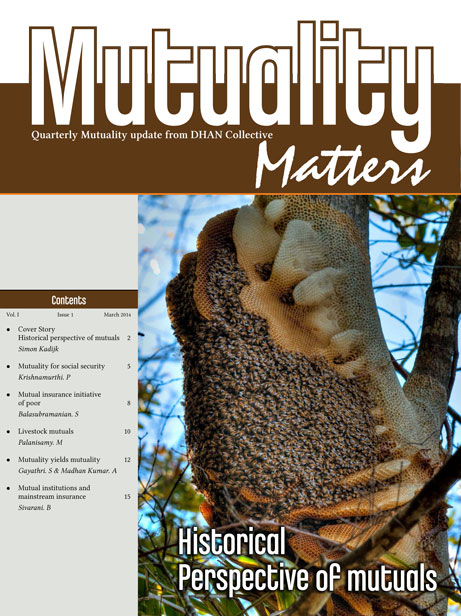 News & Events
stories
Turning the tide - Enabling poverty reduction

It is rare to find a woman shoulder the responsibility of farming. It is usually the male counterpart who takes up the farm responsibility, but it is not so in the life of Kamatchi.Read More...