DHAN COLLECTIVE
DHAN Foundation and its institutions form the DHAN Collective. It is to nurture and preserve the culture of collegiality, mutuality and solidarity. Shared purpose, core values and resources (human, financial and physical resources) bind the institutions of DHAN Collective. DHAN Foundation as the mothering institution would guide, support and regulate its family institutions on their mission, policies, strategies and values. Each institution would define its 'own unique' space.
Kalanjiam Community Banking Programme (KCBP), one of DHAN Foundation's pioneering initiatives and its first institution, has evolved into an institution, the 'Kalanjiam Foundation', to take up the promotional role. It would promote the theme of Kalanjiam Development Finance and guide the people institutions. Similarly, Vayalagam Tankfed Agriculture Development Programme (VTADP) of DHAN Foundation has evolved into the DHAN Vayalagam (Tank) Foundation (DVTF) to work on the theme of conservation and development of small - scale waterbodies and stabilise the livelihoods of the farmers dependent on them. Tata-Dhan Academy (TDA), the development management school promoted by DHAN, is expected to evolve as a seperate thematic institution within the next three to five years. Many such institutions would emerge in course of time with efficient, excellent and with unquestioned integrity – in the DHAN Collective of institutions.
Structure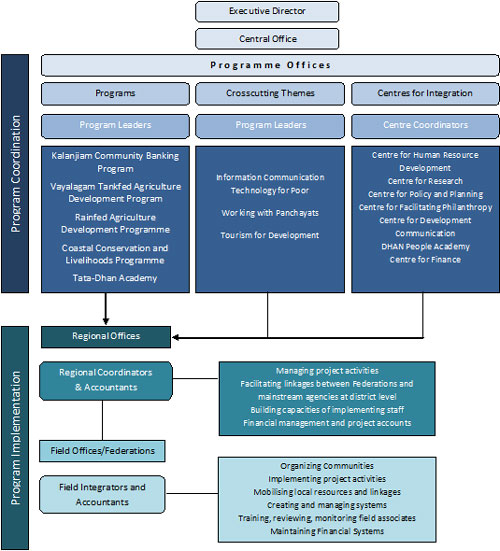 news & events
stories
Turning the tide - Enabling poverty reduction

It is rare to find a woman shoulder the responsibility of farming. It is usually the male counterpart who takes up the farm responsibility, but it is not so in the life of Kamatchi.Read More...