dhan foundation's participation in india water week 2013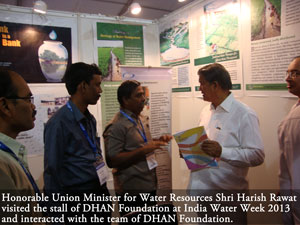 India Water Week is a key annual policy and technology showcase event organised by the Ministry of Water Resources, Government of India in partnership with public, private and non-profit organisations working on the issues of Water. National Water Development Agency and Central Water Commission have jointly anchored the India water week 2013 at Vigyan Bhawan, New Delhi between 8 and 12 April 2013 on the theme "Efficient Water Management: Challenges and Opportunities". A number of events including conferences and policy dialogues were organised on the topics relevant to the focus of the year. As part of this event an exhibition was organised by different stakeholders, who have showcased their experiences and contributions in the field of Water Management.
The event had international and national audience comprising of policy planners and technologists involved in water resources management in all key sectors like Agriculture and Irrigation, Energy and Industry and Drinking water supply. With all the collective efforts of stakeholders, the India Water Week 2013 was a huge success with 2200 registrations and over 200 technical papers presented and discussed.
DHAN Foundation, which has been working for more than two decades on the theme of Water, made its presence in the India Water Week since its inception. In 2012, DHAN Foundation organised a seminar on the theme of "Water bodies (Irrigation tanks): Sustaining Food Security and Honorable minister for Rural Development Shri. Jayaram Ramesh felicitated the event and released "Manual on Ahar Pyne Rehabilitation at South Bihar".
This year 2013, a team of Professionals from DHAN Foundation has attended the event and presented papers on the grassroots experience in water conservation and development. Also they presented three posters, which were displayed in the exhibition hall throughout the week. DHAN's experiences in water conservation and management were displayed at the Exhibition. Honorable water Resources Development Minister Shri.Harish Rawat visited the stall and interacted with the team of professionals from DHAN. The details of papers presented in the forum were given as:
News & Events

It is rare to find a woman shoulder the responsibility of farming. It is usually the male counterpart who takes up the farm responsibility, but it is not so in the life of Kamatchi.